9 Month old Female Available!
Absolutely Gorgeous !!!
She would make a GREAT female to add to your breeding program! She would also be a GREAT pet! She loves attention and is a real sweet heart too. I wanted to keep her but I am looking for an unrelated female for my sire.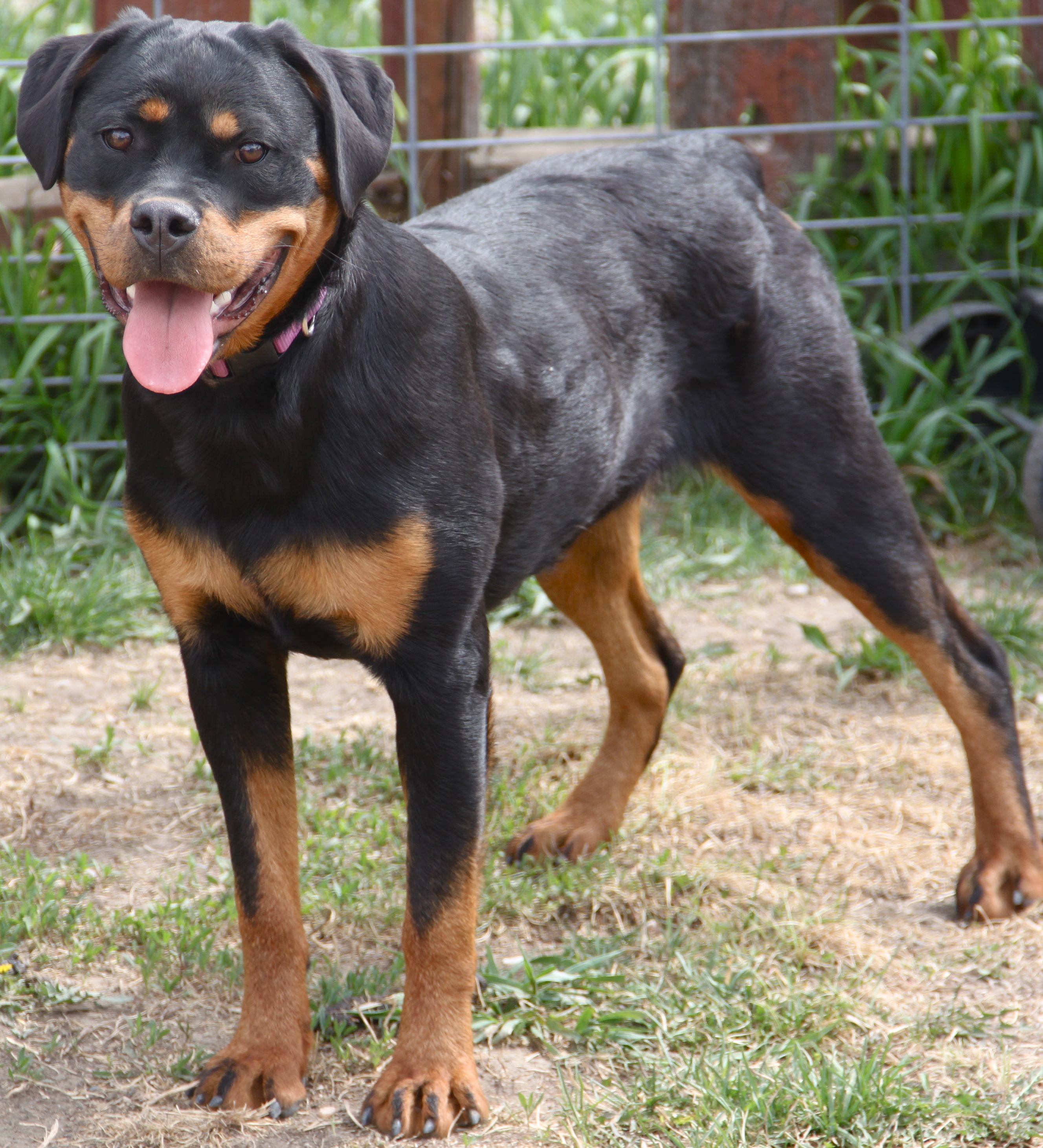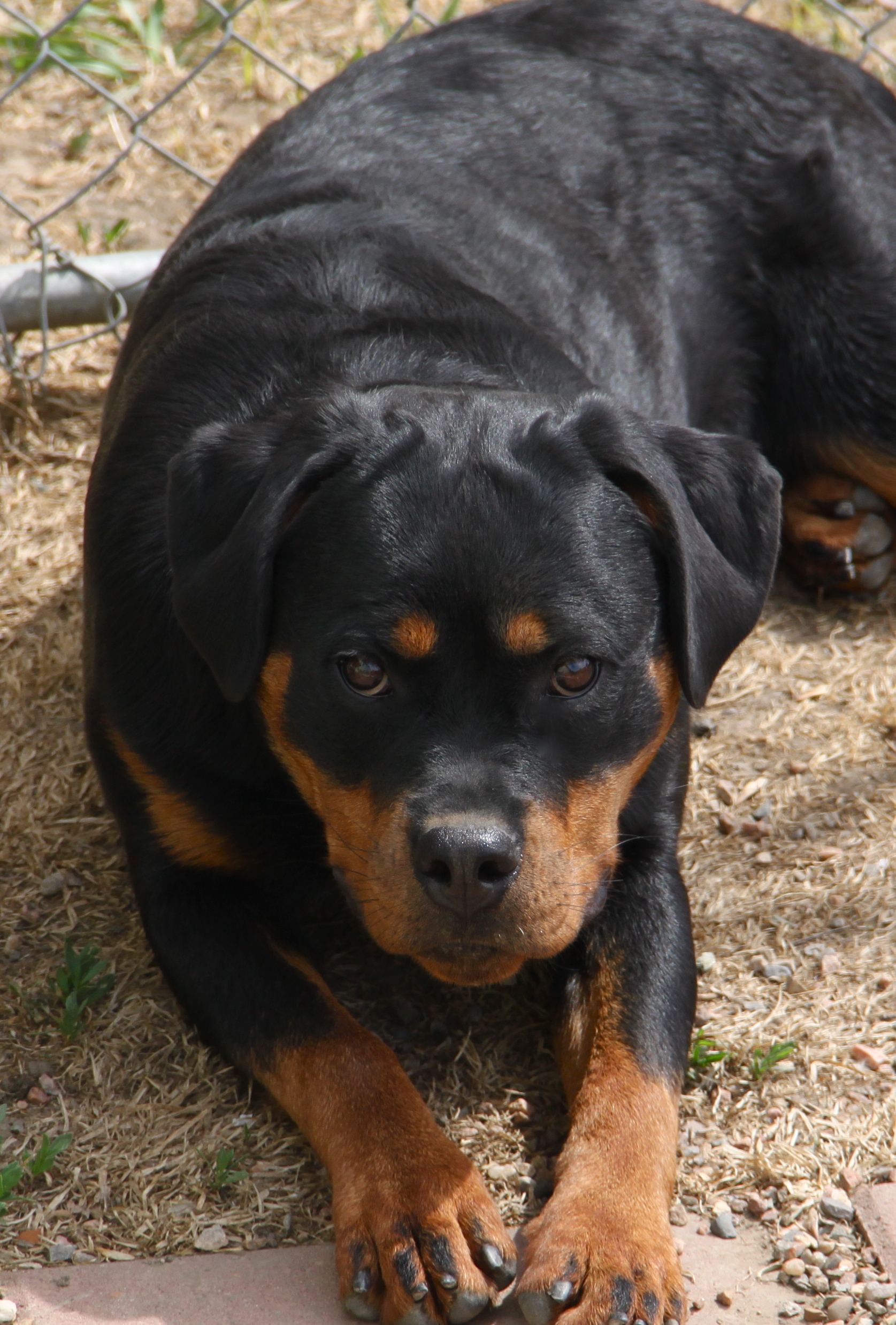 Litter Born:
July 16, 2014
Brave Knights Astors Back To The Future
OFA Good
WD CH Astor Von JuniperaDate of birth: 28.07.2007.
HR14902RW
eye color: 1b
HD: free(A)
ED: free(0)
Certificat of HD and ED
DNA
HEART - CLEAR
Height: 65cm
Muzzle: 8,5 cm
Circuit chest proportion: 107 cm
IPO I
BH, ZTP
Waro von Hause Sommer
JR 86247 Rw

Born: 05/04/2002
Balou vom Silberblick
HD-free, ED-free
ADRK 935552
HD ED ScH III BH BH-DTVDH CH
4 CAC 2 BOB RCACIB
Jackomo von der Bleichstrasse EJS 94 HD /-
Afra vom Bevertal HD-free
Abby von Hause Sommer
MET 10819/95
HPJ RCAC HD /-
Henry vom Hirschenrangen HD-free ADRK 80405
Oxana von Junipera MET 635/94 HD IPO I
Volga od Dragicevica
JR 85442 Rw

Born: 29/09/2004
Odo od Dragicevica
CHJYU CH YU
JR 84672 Rw
4 PRM CAC CACIB 2 BOB HD-free
Mambo von der Crossener Ranch HD /- ED-Free ZTP VDH-CH INT CH
Hera od Dragicevica INT CH HD-free ED-free
Hajdi od Dragicevica
JR 83058 Rw
Odo von der Flugschneise HD /-
Bessy vom Haus Krammer HD-free IPO-1
INT CH Brave Knights All That Jazz
OFA Good
UCI INT CH CRESTRIDGE MARKET HAUSE ANGUS
OFA EXCELLENT
REG#: WS15224204
DOB: Sept 23, 2005
CH Goldshields Hawn Punch
DOB: June 5, 2002
RO-65639G30M-NOPI, RO-EL5070M30-NOPI
NRC[A] CH,\'02 ARV NW R.Sieg. Jeneck%u2019s Punch SchHI, BH, ZtP,RO-62251E
Ch Von Boylan%u2019s Grand Stand CDX, RO-60658F28F-T,
Daska Vom Hause Fritz
WR07854602 OFA24G OFEL24 (HUNGARY)
Date Whelped: 04/04/2002
Breeder: Zoltan Fritz/Bernadett Fritzne
Chan Von Der Bleichstrasse HD A, ED A, DT.VDH Champion, BH, ZTP, SchIII. ... ADRK 101541
Kitty Von Hause Sommer IPO I, 4 x HPJ, 4 x CAC, 3 x R.CAC, MET Rott 4670/99, HD-, ED-
WINDSONG BUNGE VOM ROTHOM
OFA GOOD-RO-66872G34F-PI-
REG#: WS05174005
Altar\'s Donar Von Alta Acres
Black/Mahogany WP-621144/03 OFA26G
CH Dillon Von Wacissa, C.D Black/Mahognay WP-291589/01 OFA24G
Can. CH Altar\'s All That Jazz V Gillie Black/Mahognay WP-352340/01
CH Altar\'s Fallon Vom Rothom CGC Black/Mahognay
WP-647306/02
8 pts.

RO-55278-G29F-T
CH Champ Von Vilstaler Land Black/Mahogany WP-438353/01 RO39425G24M-T (Germany)
Altar\'s Ruska Vom Rothom, CGC Black/Mahogany RO36614G26F
Brave Knights Simply Irresistable
OFA Fair
V1 Rated Echo Vom Hamblin
OFA Good
CERF Passed
Heart Passed
INT./DT.ADRK/VDH/LUX-CH, Belgium Klub Winner\'07
QUAID VOM HAUSE ENZIAN
HD-free, ED-free, BH, AD, ZTP, VPG3, IPO3, FH1, gekort bis 13.05.09
DT.VDH-CH, %uFFFD-KS\'04
Orlando vom Hause Neubrand
HD-free, ED-free, BH, AD, ZTP, VPG3, IPO3
Amadeus vom Silberpfeil HD-free, ED-free, BH, AD, ZTP, SchH3, IPO3, gek%uFFFDrt bis 13.05.02
EJS\'99, BS\'00, SCHWZ.KS\'00 Cora vom R%uFFFDsslesgarten HD /-, ED-free, BH, AD, ZTP, SchH3
Hyra vom Hause Enzian
HD-frei, ED-frei, BH, AD, ZTP, SchH3
SCHWZ/DT.VDH-CH Endy von der Kurpfalz HD-frei, BH, AD, ZTP, SchH3, IPO3
INT/SCHWZ/DT.VDH-CH, WJS\'94 Evi vom Hause Enzian HD-frei, BH, AD, ZTP, SchH3, IPO3
RIA VOM SCHWAIGER RATHAUS
HD-free, ED
Pink Papered German Import
DT.VDH-CH
Amigo vom Schwaiger Wappen
HD-free, ED-free, BH, AD, ZTP, VPG3, gek%uFFFDrt bis 14.05.08
INT./SCHWZ./DT.VDH-CH, ES\'02, %uFFFD-BS\'02, SCHWZ.KS\'02, %uFFFD-KS\'02\'03 Mambo von der Crossener Ranch HD /-, ED-free, BH, AD, ZTP, SchH3, IPO3, FH2
Unja vom Schwaiger Wappen HD-free, ED-free, BH, AD, ZTP, VPG3, gek%uFFFDrt bis EZA
Julle vom Schwaiger Rathaus
HD-free, ED /-, BH, AD, ZTP, VPG3, IPO3, FH1, gek%uFFFDrt bis 14.05.08
DT.VDH-CH, IFR-WM\'01 Troll vom Hause Anin HD-free, ED-free, BH, AD, ZTP, VPG3, IPO3, gek%uFFFDrt bis EZA
Cleo vom Schwaiger Wappen HD-free, ED-free, BH, AD, ZTP, SchH3, IPO3, FH1, gek%uFFFDrt bis EZA
Brave Knights Fancy Face
OFA Good
RO. J. ENZO VON IVAN HAUSETITLES INCLUDE: First place, baby class, RCR national championship;

10.05.2008 CACIB Timisoara - RPJ, Best Junior, arbitru Denis Kuzej(SLO);

11.05.2008 CACIB Timisoara - RPJ, Best Junior, Junior Best in Show, arbitru Nemanja Jovanovic(SRB);

08.06.2008 CAC Lugoj - RPJ, Best Junior, arbitru Gavril Cenadan(RO)
HERBIE VOM GRUNTENBLICK INT.CH,D.CH,USA.CH,SchH 1
MAMBO VON DER CROSSENER RANCH INT.CH,VDH.CH,MULTI.CH,SchH111,ZTP
TOGA VOM KUMMELSEE SchH-11,BH
NIKOL OD DRAGICEVICA INT.CH,R.CH,R.CHCL,IPO-1, 23CAC,6CACIB
ODO VOM FLEISCHER 6CAC,SchH/VPG,AD,BH
HERA OD DRAGICEVICA INT.CH,YU.JCH,3 CAC,7 CACIB
I - Black Angel Se Ungo Rot
HDFrei
ED1
Freud Od Dragicevica
HD-
BH, ZTP, SCHH/VPG I DT VDH-CH Ambassador von Shambala 2000 ADRK 103713 HD-ADRK HD- Frei
IPO1 CH JYU,CH YU Oli Od Dragicevica 2002 HD-
Hanna-junior se ungo rott



HD-
Hoss Vom Grossen Tal HD-FCI: A 1/2
IPO1 CAC, CACIB Ina-Isly Se Ungo-Rot JR 84607 HD-FCI: A 1/2
Pedigree generated by PedigreeQuery.com

CLICK HERE
If you would like to visit my home to see my dogs please call to set up an appointment. All of my dogs are VERY VERY FRIENDLY & I would love for you to come and visit !!!!!!
(218) 640-6878
ALL OF MY PUPPIES ARE RAISED IN MY HOME AND NOT IN A KENNEL!!! I FEEL THIS IS THE ONLY WAY TO RAISE A PUPPY!!! THIS DOES NOT STRESS MY FEMALES EITHER, AS THEY ARE COMPLETELY DOMESTICATED AND HAVE NO REASON TO TURN ON THEIR WILD INSTINCTS AS TO THINK THEY NEED TO PROTECT THEIR PUPPIES FROM US (THEIR HUMAN FAMILY)! A FEMALE THAT HAS SPENT MOST OF HER TIME OUT IN A KENNEL AND NOT PART OF THE HUMAN FAMILY IN THEIR HOME WILL TEND TO GO INTO PROTECTION MODE AS THE FEMALE WILL TEND TO FEEL LIKE SHE IS IN CHARGE OF HER AREA AND WHEN THOSE PUPPIES ARE BORN SHE IS ALSO IN CHARGE OF THEM AS WELL.
I HAVE BEEN DOING THIS FOR MANY YEARS NOW AND IT HAS GONE VERY WELL. ALL OF MY PUPPIES ARE INTRODUCED TO MUCH STIMULATION FROM THE GET GO, AND ARE RAISED WITH MY FAMILY AND ANYONE ELSE WHO MIGHT COME ALONG TO VISIT.


The Creation
When God had made the earth and sky
the flowers and the trees,
He then made all the animals  
the fish, the birds and bees.
 
And when at last He'd finished
not one was quite the same.
He said, "I'll walk this world of mine  
and give each one a name."
 
And so He traveled far and wide  
and everywhere He went,
a little creature followed Him
until it's strength was spent.
 
When all were named upon the earth
and in the sky and sea,
the little creature said, "Dear Lord,
there's not one left for me."
 
Kindly the Father said to him,
"I've left you to the end.
I've turned my own name back to front
and called you dog, My friend."
Author Unknown
Socialization Checklist

From "Dog World" Magazine

For a puppy, the world is full of new and exciting sights, sounds and smells. Help it become a confident canine by exposing it to the following objects and experiences. But remember: Control each experience to make it a positive one. These early interactions can be major factors in future behavior.

Meeting People

* Meet 100 new people in 100 days

* Men with beards

*People with hats

*Very tall people

* Very small people

* Children

* People with different complexions

* Elderly people

Objects to Encounter

* Umbrellas

* Canes

* Wheelchairs

* Bikes

* jangling keys

* Upside-down chairs

* Noisy kitchen appliances

* Television

* Vacuum

Meeting Animals

* Other puppies

* Adult dogs of the same breed

* Dogs of different breeds

* Cats

* Other animal species

Environmental Factors

* Cars and Trucks

* Sudden loud noises

* Veterinary clinic

* Wind

* Crates

* Dog

*Stairs

* Being alone

* Music

* Show/trials(if you decide to Show)

Being Handled

* Grooming

* Examining teeth

* Trimming nails

* Baths

Body Awareness

* Climbing over moving objects

* Slippery floors

* Grass

* Puddles

* Concrete

Something to think about when deciding to adopt a puppy.......
Do I Go Home Today?
My family brought me home,
Cradled in their arms.
They cuddled me and smiled at me,
And said I was full of charms.
They played with me. And laughed with me.
They showered me with toys.
I sure do love my family,
Especially the girls and boys.
The children loved to feed me,
They gave me specail treats.
They even let me sleep with them,
All snuggled in the sheets.
I used to go for walks,
Often several times a day.
They fought to hold the leash,
I'm very proud to say.
These things I can't forget,
A cherished memory.
I now live in the shelter,
without my family.
They used to laugh and praise me,
When I played with that old shoe,
But I didn't know the difference
Between the old one and the new.
The kids and I would grab a rag,
And for hours we would tug.
So I thought I did the right thing,
When I chewed the bathroom rug.
They said I was out of control,
And would have to live outside.
I didn't understand,
Although I tried and tried.
The walks stopped one by one,
They said they hadn't time.
I wish that I could change things,
I wish I knew my crime.
My life became so lonely,
In the backyard on a chain.
I barked and barked all day long,
To keep from going insane.
So they brought me to the Shelter,
But were embarassed to say why.
They said I caused an allergy,
And then they kissed me goodbye.
If I'd only had some classes,
When I was a little pup,
I wouldn't have been so hard to handle,
When I was all grown up.
"You have only one day left,"
I heard the workers say.
Does this mean a second chance?
Do I go home today?
(Author Unknown)
THIS SITE IS COPYRIGHTED

DO NOT COPY ANY PICTURES OR TEXT 2010