LISTED BELOW ARE SOME OF THE GOOD QUALITY FOODS TO FEED YOUR DOG !!!!!!
I am a strong believer in feeding my dogs according to what each individual dog needs. The foods I have chosen to feed my adult dogs and puppies is Nutri Source keeping in mind that these foods have a meat or meat byproduct listed as the first ingredient in the food. The name of the food doesn't always neccesarily mean anything. As dogs are carnivores they need to be fed some kind of meat (not a vegetable like alot of dog food companies try to introduce into dog foods now). I look very carefully into the ingredients in the foods.

Here is a  list of some other well known foods with meat ingredients first that I also recommend: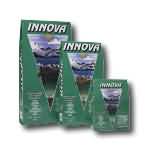 I also supplement my dogs and puppies with a vitamin called "NuVet Plus".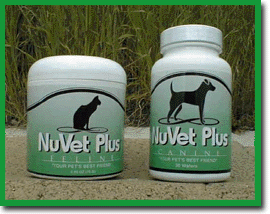 Why is NuVet Plus the best pet supplement available?
- They use all natural, human-grade
vitamins, minerals and antioxidants.
- They manufacture their products in a
human-grade lab and have to meet the
same strict guidelines as human
pharmaceuticals.
- They do not use fillers or artificial
binding agents. Instead, they use a
high compression tableting machine to
press their wafers.
- Their products are never heat
processed. Heat destroys essential
nutrients and reduces effectiveness
of all natural ingredients.
- It is safe for animals of all ages
including pregnant females.
- No pet food can give everything they
need. NuVet Plus provides pets with
essential nutrients that are missing
from their diet.
Just to give you a little information on Nuvet vitamins : It is very very important to maintain a proper diet for your Rottweiler puppy because most dog foods do not supply everything they need. I have been amazed over the last couple of years at the growing number of families who search out our Rottweiler puppies to replace a pet that has died or has complications due to Hip Dysplasia, allergies, arthritis, cancer and the list goes on and on. These complications have not been proven that it is completely genetics that cause this. That is why I have included in my Guarantee the requirement to keep all puppies on Nuvet vitamins to help void out the possiblity of nutritional deficiency. I have found this to be the best supplement on the market and is only available through professional breeders and Veterinarians, and will make up the nutritional lacks in any food, as well as any environmental health challenges your pet faces. I want to do all I can to ensure long and healthy lives for all my puppies that go into pet or show homes. All people who adopt from me also get a discount on these vitamins through the company. This is another way of saying Thank you for contributing to a healthier pet population. I have been told by other people and breeders that it has improved the longivity of their lives even if their pets have already been diagnosed with complications.
NuVet Plus will help you save a bundle on vet bills. And is great for strengthening the immune system to prevent things from happening and maintaining overall good health. You will not see a difference in the very healthy puppy you  purchased from us because he/she is already on NuVet (even from the beginning because Mom has been on it &  when the puppies are started on food it is put right into their food) - its working on the inside to keep he/she that way. You can order NuVet Vitmins by clicking on the link below the "NuVet Labs" Logo. NuVet also carries a vitamin for cats. And even if you decide not to adopt from me at this time as a Thank You for visiting our website you can still get this amazing vitamin through me at a discount price. Just Click on the  "NuVet Labs" Picture below.