The Document below is the critique given by judge "Dieter Hoffman" at the Pennsylvania USRC Show in April 2009 !!! Angus was "V" rated at this show !!!!!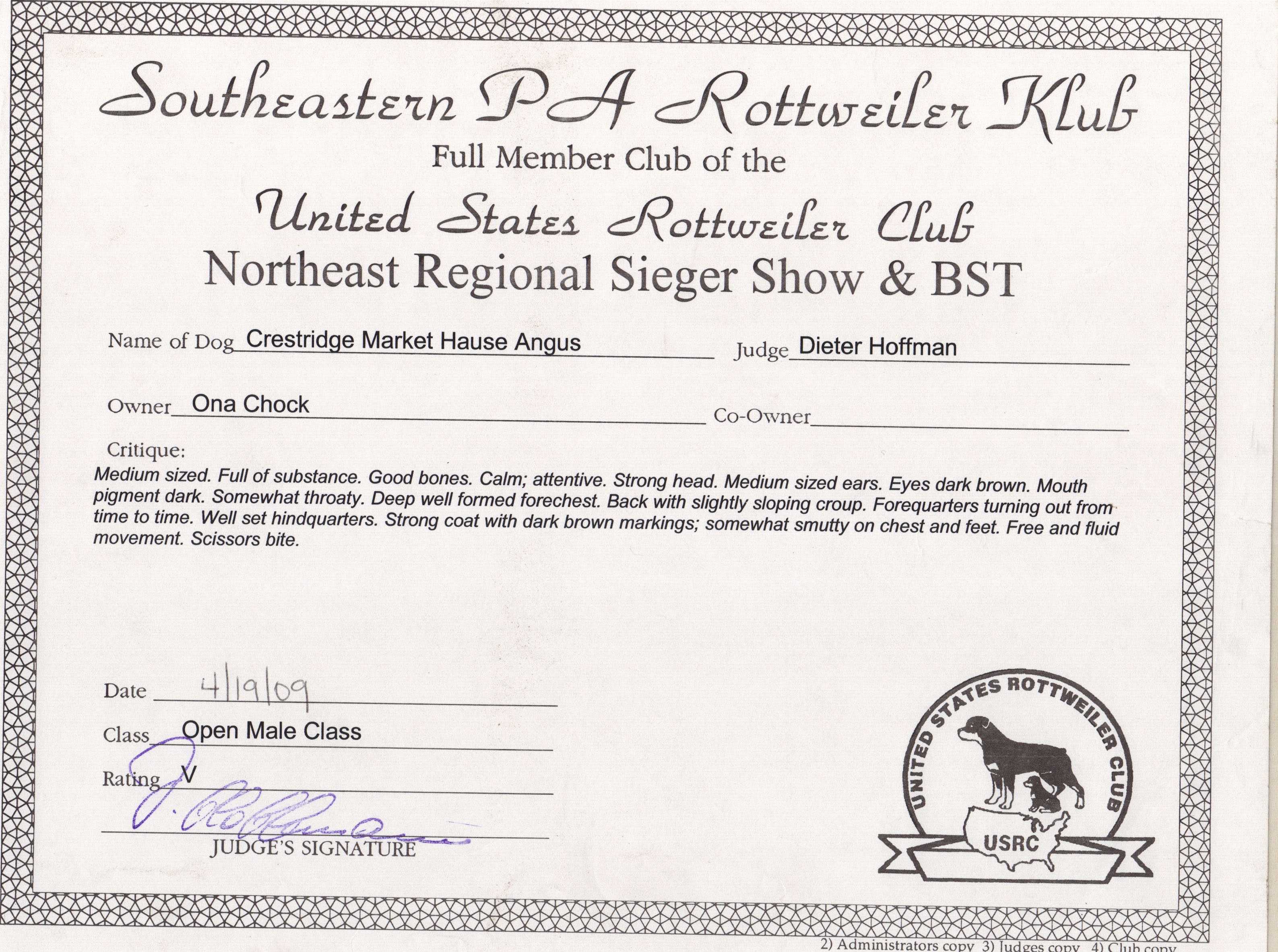 The documents listed below are the Certificates & Critiques from 3 different judges at the UCI INT Show in May 2007 !! 
V1 Rated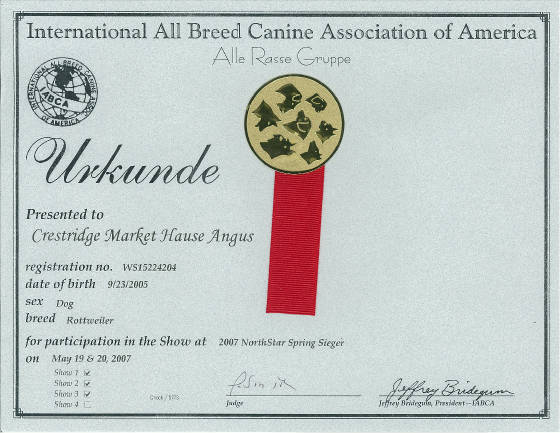 Judge: Ms. Patti L. Smith - USA
V1 Rated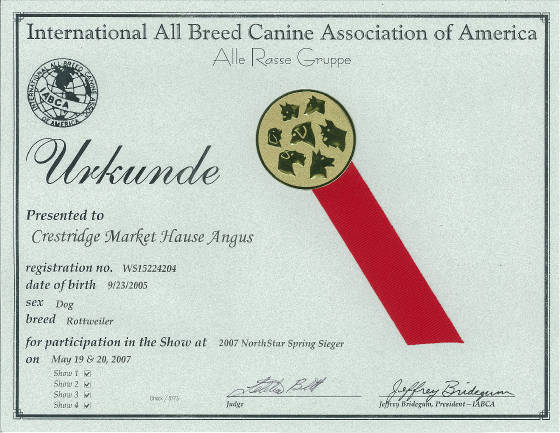 Judge: Mrs. Letitia Bett - CAN
V1 Rated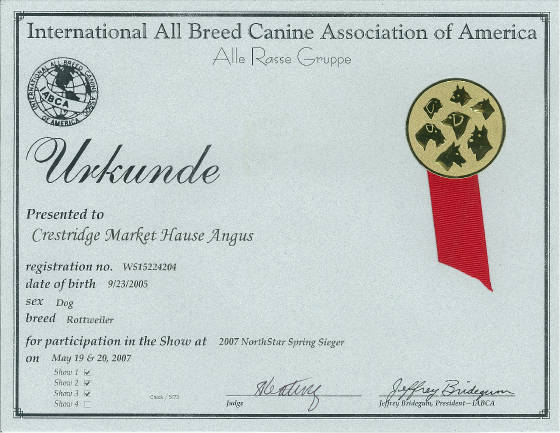 Judge: Dr. Steve Keating - USA

"CH GOLDSHIELDS HAWN PUNCH"
ANGUS' SIRE
(PICTURED BELOW)
CH GOLDSHIELDS HAWN PUNCH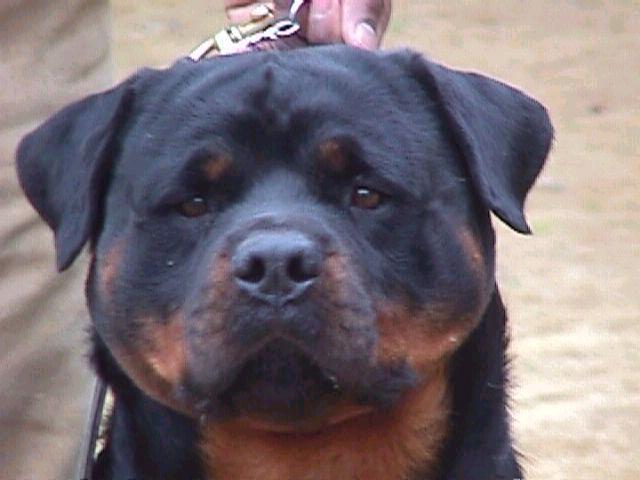 ANGUS' SIRE
CH GOLDSHIELDS HAWN PUNCH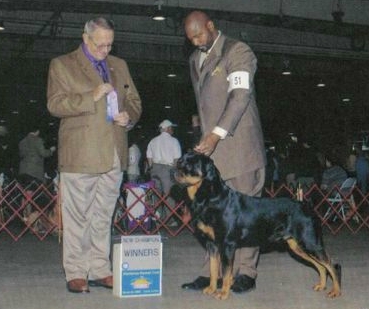 ANGUS' SIRE
Pedigree for "CH Goldshields Hawn Punch"

Rottweiler
Sire
NRC[A] CH,'02 ARV NW R.Sieg. Jeneck's Punch SchHI, BH, ZtP,RO-62251E
Sire
Gabor vom Gambrinus

Sire
Timm vom Zimmerplatz SchIII AD Gek. 9-30-90 (Dortmund)

Sire
WS'80 WJS'79 Brando vom Hause Neubrand SchH III, FH, AD, IPO III, HD-

Dam
Simmy vom Schwaiger Wappen SchH I, HD-Frei
Dam
Kathy vom Schwaiger Wappen IPO1, BH, Met, HD-

Sire
Int/Am Ch WS90 ES90 BJS87 O-BS Benno von der Schwarzen Heide SchH III, FH, IPO III, ZtP, TT, AD, CGC

Dam
Vicky vom Schwaiger Wappen SchH III, FH, AD, ZtP HD-
Dam
Jeneck's Tina RO-54398G

Sire
Jeneck's Flash SchH3, FH, BH, Gek. Eza,RO_43612G
Sire
'93 ARV Nat'l Sieger,'94 ARV Nat'l SchH CH Jeneck's Wotan SchH III, IPO III, FH, AD, Korung, ZtP, RO-34654G

Dam
Thekla vom Hennekamp Ztp,RO-22472G

Dam
Jeneck's Bessy BH, Ztp,RO-39502G

Sire
USRC Sieger, Multi V-1 Oleo vom Haus Schmidgall SchH III, IPO III, RO-9994-T good

Dam
Multi V-1 Donna vom Schwaiger Wappen BH, ZtP

Dam
Ch Von Boylan's Grand Stand CDX, RO-60658F28F-T,
Sire
Am/Can Ch Montclaire's Odin v Wyndhurst CD

Sire
Am/Can CH Montclaire's Blitzkrieg CD, RO-32175G24M-T

Sire
Can Ch Petz vom Aalener Spion

Dam
Can Ch Minkhollow's Briana Am/CDN CD
Dam
Can Ch Wyndhurst Indiana Dare

Sire
BIS Can Ch Wyndhurst Delta Dare Can CD
Dam
Can Ch Falstaff's Alicia
Dam
Select CH Fine's Ciara von Covenant CD, RTD, RO-405926 RO-EL1350

Sire
V-1, BIS, BISS, Sel Am CH Tobant's Grant RO-26385G24M-T, RO-EL406M45-T
Sire
Am/BIS/BISS CH (Ned.import) Nelson van het Brabantpark RO-15579E33M
Dam
Tobant's Texas Tootsie
Dam
CH Fine's Sooner Magic v Forstwald CD, RO-22241F25F

Sire
Brando vom Dattelner Hof Sch II, IPO lll, FH, BH
Dam
Fine's Lexa vom Forstwald RO-8710 good
"DASKA VOM HAUSE FRITZ"
ANGUS' DAM
(PICTURED BELOW)
DASKA VOM HAUSE FRITZ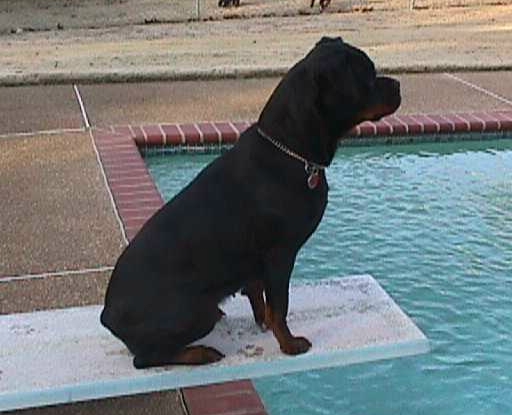 ANGUS' DAM
DASKA VOM HAUSE FRITZ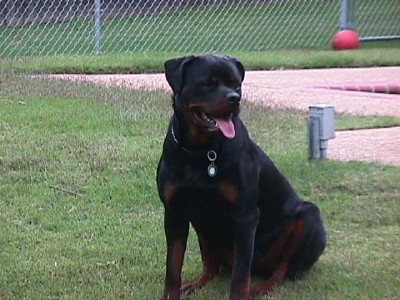 ANGUS' DAM
Pedigree for Daska Vom Hause Fritz

Rottweiler BLK & MHGY

WR07854602 OFA24G OFEL24 (HUNGARY)
Date Whelped: 04/04/2002
Breeder: Zoltan Fritz/Bernadett Fritzne
Owner: Ann Chafin


Sire
Chan Von Der Bleichstrasse HD A, ED A, DT.VDH Champion, BH, ZTP, SchIII. ...
ADRK 101541
Sire
Rick Von Burgthann SchH3 AD BH IPO3
ADRK 84080 07-03

Sire
INT.Aust.Ö-KS'95.CH Doc von der Teufelsbrucke SchH3 FH AD IPO3
WP74853301 (03-97)
BLK & MHGY (GER)
Sire
CH Benno Von Der Schwarzen Heidi SchH3 FH AD IPO3
WP35773001 (07-96)
OFA54G BLK & MHGY
Dam
INT.CH.BS'90'91'92 BJS'88 KJS'88 Ö-BS'91 Bea Von Der Teufelsbrucke SchH3 FH1 AD IPO3 HD +/-
ADRK 70957
Dam
Hope Von Burgthann HD -SchH 1, BH
ADRK 76630
Sire
Chris Vom Obergrombacher Schloss SchH3 AD
HD-Frei
ADRK 67187
Dam
Sonja Vom Kupferdach SchIII FH AD Gek bis HD-
ADRK 62273
Dam
Quenda V.D. Bleichstrasse SchH III, BH
Donausiegerin 99
ADRK 090405 (GER
Sire
INT./DT.VDH-CH.ES'93 KS'91'92 KJS'90 Noris Vom Gruntenblick SchH3 FH AD BH IPO3
ADRK 73857 (GER)
Sire
Falko Vom Gruntenblick SchH3 FH AD IPO3
HD-Frei
ADRK 62273
Dam
Addi Vom Herrenholz SchH III, AD, FH, Ztp
HD +/-
ADRK 66908
Dam
Bea Von Der Bleichstrasse
SchH3 FH AD
ADRK 69334
Sire
Bronko Vom Dattelner Hof SchH III AD Gekort bis EzA HD-

Dam
Alfa Vom Kodiac
SchH III AD Gekort bis EzA HD-
ADRK 61260
Dam
Kitty Von Hause Sommer IPO I, 4 x HPJ, 4 x CAC, 3 x R.CAC, MET Rott
4670/99, HD-, ED-
Sire
Matcho Von Burgthann
FH2, AD, BH, IPO3,
HD+/-, ED-Frei, Gek.b.13.09.97, ZTP.
ADRK 81538
Sire
Irk vom Obergrombacher Schloss SchH2 AD BH
ADRK 72745
Sire
Hassan Vom Konigsgarten SchH III, AD, FH, ZtP, Gek bis 5-19-85 HD-
ADRK 56895

Dam
Berta Von Klein-Vach SchH II AD ZTP (4/85)
ADRK 61008
Dam
Dascha Von Burgthann HD-frei, SCHH-3, FH, AD, IPO-3
ADRK 72726
Sire
Karo vom Schwaiger Wappen
SchIII AD FH Gek.b.EzA 5-25-86 (Aldingen) HD-
ADRK 58086


Dam
Cora Vom Ries SchH III FH AD Gek b EzA 10/4/87 (Schoneck) HD-
ADRK 89252
Dam
INT/Hun.CH Grand King Emanuelle
MET ROTT. 103394

Sire
INT.Aust.Ö-KS'95.CH Doc Von Der Teufelsbrucke SchH3 FH AD IPO3
WP74853301 (03-97)
BLK & MHGY (GER)
Sire
CH Benno Von Der Schwarzen Heidi SchH3 FH AD IPO3
WP35773001 (07-96)
OFA54G BLK & MHGY
Dam
INT.CH.BS'90'91'92 BJS'88 KJS'88 Ö-BS'91 Bea Von Der Teufelsbrucke SchH3 FH1 AD IPO3 HD +/-
ADRK 70957
Dam
INT/Hun.CH Grand-King Arabona HD-frei, IPO I 2xHPJ, 10xCAC, 6xR.CAC, 3xCACIB, 3xR.CACIB,
CACA, R.CACA, Slo.CAC
MET 743991

Sire
Int'l/VDH Dt CH
Xari vom Hause Hagele
SchH III, FH, AD,ZtP 6-17-88 (Friedrichshafen) HD-
ADRK 067043

Dam
H.KSG'93 FCI Intl/Hungarian CH
Voros-Golem Alma
IPO I

MET 218089